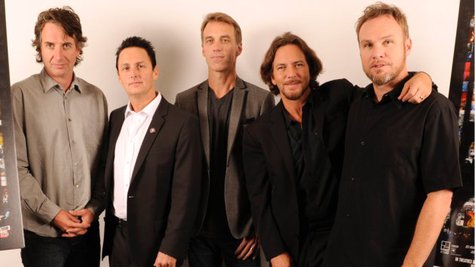 Pearl Jam fans, it looks like the news you've all been waiting for may well be announced next week. The band has put a countdown clock on their official website, which will unlock a section of the home page when it reaches zero on Monday, July 8 at 1 p.m. ET.
While it's unclear whether the band will be revealing information on their upcoming tenth album or announcing the group's next batch of tour dates, guitarist Stone Gossard recently told ABC News Radio that he's hoping the group will deliver their new album sometime this year.
"I'm optimistic that it'll be [released] this year, but you never know," he notes. "We're not done yet, so until we're actually done -- and done means not only is the music done but then the artwork's done and then the marketing plan is done and all of that stuff -- so I'm guessing it'll be out this year but it could be next."
As of now, Pearl Jam only has two tour dates left on their calendar this year. The band will be playing sold-out shows at Budweiser Gardens in London, Ontario, Canada on July 16 and at Wrigley Field -- the home of the Chicago Cubs -- on July 19.
Copyright 2013 ABC News Radio