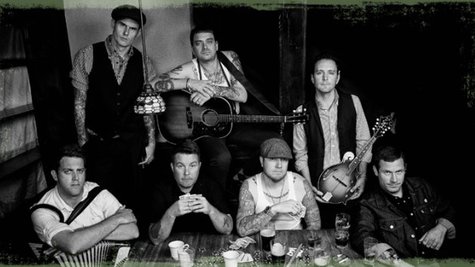 Dropkick Murphys have made a sizable donation to help their hometown of Boston. The band's charity, The Claddagh Fund , has given over $300,000 to more than 60 victims who were affected by the Boston Marathon bombings.
The funds were raised through the group's "For Boston" campaign which included the sale of a Boston-themed t-shirt, a three-song EP which features a guest appearance from Bruce Springsteen and proceeds from the band's benefit concert at Boston's House of Blues on April 28. The Claddagh Fund released the majority of the money last week, with singer/bassist Ken Casey visiting with many victims in person.
"Every single person we had the pleasure of meeting expressed a positive attitude and an incredible sense of perseverance as they work hard to return to the lives they enjoyed before the tragic day in April," said Casey in a statement. "We were humbled by the kindness of our friends and fans who got behind this cause with so much heart and passion, it was truly an honor to be able to represent them and contribute, even if in a small way, to help these inspirational individuals."
Copyright 2013 ABC News Radio