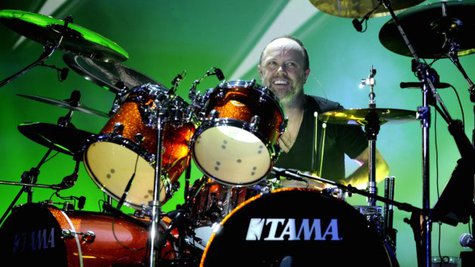 During San Diego Comic-Con this past weekend, Metallica revealed a new trailer for their upcoming 3D film, Through the Never , which features clips of live performances from the band and a separate storyline that revolves around In Treatment actor Dane DeHaan . Drummer Lars Ulrich says that while the flick isn't a traditional concert film, it will feature more than its fair share of concert footage sure to please die-hard fans.
"It's two parallel universes that sort of cross paths all the time," Ulrich said in a panel discussion with fans at Comic-Con. "There's plenty of Metallica in there, you're not gonna walk away going, 'I wish there was more Metallica in there' and I think there'll be more people going, 'Put more Dane up there, get these guys off the screen.'"
Ulrich feels that Through the Never adds a new spin on the great tradition of music films like 1970's Woodstock , 1975's Tommy and 1982's Pink Floyd The Wall. "We've put a lot of hard work and sweat into trying to make a movie that's really different from another other, sort of, music-based films," he explains. "They all stand on their own pedestals. If our somehow can add an additional element to that great set of music films would be an honor, but the main thing is that it's really unique."
Through the Never will premiere exclusively at every IMAX theater across North America for a full week starting September 27. After the flick has its run in the IMAX theaters, it will expand into additional cinemas starting October 4.
Copyright 2013 ABC News Radio