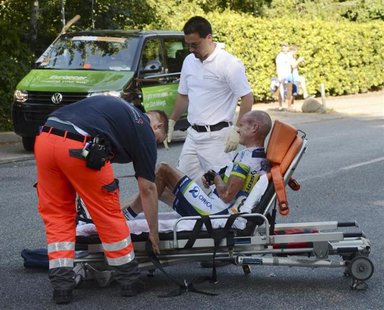 (Reuters) - Australian Tour de France stage winner Stuart O'Grady has admitted using the banned blood-booster EPO before the notorious 1998 race.
O'Grady, who announced his retirement this week after helping his GreenEdge team to a team time trial victory in this year's Tour, became in 1998 only the second Australian to wear the race leader's famous yellow jersey.
"Leading into the Tour I made a decision," the 39-year-old told the Adelaide newspaper The Advertiser in an interview.
"I sourced it (EPO) myself, there was no one else involved, it didn't involve the team in any way. I just had to drive over the border and buy it at any pharmacy."
O'Grady, a former track cyclist who won medals at three Olympics, including gold at the 2004 Athens Games, took the first of his four career Tour stage wins that year in a race that was overshadowed by the Festina doping scandal.
Festina were kicked off the race after a medical team member was arrested at the French border and customs officers seized banned substances, including EPO.
The newspaper said O'Grady had been named in a French Senate inquiry into sports doping which looked at the 1998 Tour and found the top three finishers, Italian Marco Pantani, Germany's Jan Ullrich and American Bobby Julich, were taking EPO.
"The hardest part of all this is I did it for two weeks before the Tour de France," added O'Grady who was riding for French team GAN at the time.
"I used extremely cautious amounts because I'd heard a lot of horror stories and did the absolute minimum of what I hoped would get me through.
"When the Festina Affair happened, I smashed it, got rid of it and that was the last I ever touched it."
"That's the hardest thing to swallow out of all this - it was such a long time ago and one very bad judgment is going to taint a lot of things and people will have a lot of questions."
(Writing by Alison Wildey in London; Editing by John Mehaffey)