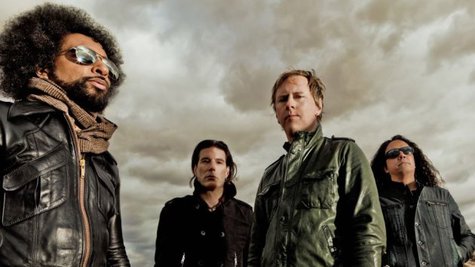 Alice in Chains ' latest single from The Devil Put Dinosaurs Here , "Voices," won't arrive at radio until Monday, but the band is now offering a preview to tide fans over. The group has posted a stream of the song online, which can be heard at USAToday.com .
Guitarist/singer Jerry Cantrell says the band decided to wait to release "Voices" as a single -- the third from the latest album -- because they wanted to make sure the first few singles highlighted the collection's heavier tracks.
"We have a bit of a pattern of coming with our heaviest stuff first, just for our own satisfaction but also for our fans," he tells the newspaper. "['Voices'] is a bit more acoustic-based, although it's got some rock-y moments to it, for sure."
You'll get your chance to hear the song performed live if you make it out to one of Alice in Chains' upcoming gigs on the Rockstar Energy Uproar Festival. That outing, which also features sets by Jane's Addiction , Coheed and Cambria , Middle Class Rut , Walking Papers and Danko Jones , kicks off on August 9 at the Toyota Pavilion at Montage Mountain in Scranton, Pennsylvania. Check out RockstarUproar.com to view the full itinerary.
Copyright 2013 ABC News Radio