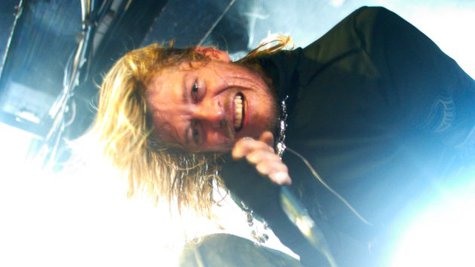 Last week, Puddle of Mudd 's Wes Scantlin was arrested for felony vandalism after he allegedly caused unspecified damage to his Los Angeles neighbor's patio with a buzz saw. Now, the singer says the patio in question is technically on his property, so he has the right to do anything he wants to it.
"I was arrested for vandalizing my own property," he tells The Hollywood Reporter . "I'm not sure if I have to call the police every time that I'm getting ready to repair my house. Do I have to call the police and say, 'Hi, how are you? I'm getting ready to repair my house."
Scantlin explains that while he was out on tour with his band, the previous owner of his neighbor's property built the patio, which Scantlin claims was an encroachment on his land and damaged parts of his home.
"To make a long story short, [they thought] 'OK, dumb rock star…is probably going to come home and not notice,'" he explains. "But I noticed because I can't get to my patio now. They destroyed 35 feet of my staircase, put up walls and boundaries and completely destroyed and vandalized my wall."
Scantlin is due in court on August 14 to discuss the incident.
Copyright 2013 ABC News Radio