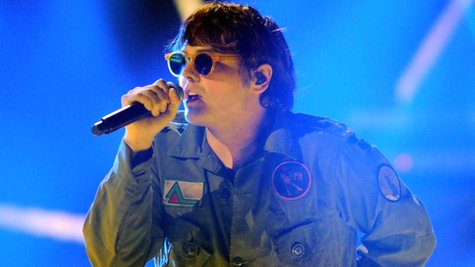 My Chemical Romance may have split up, but that has stopped former frontman Gerard Way from making new music. The singer says that he's while he's written some new material, he's not sure when or how it will be released.
"I don't quite know how to describe it or what to call it or how to put a name on it, if it's a band or solo thing," he tells The Hollywood Reporter . "What I'm doing is super organic and completely pure, and I'm positive the longer I continue doing it, it will stay that way. It's connected deeply to what I was before I started My Chemical Romance and had that adventure."
In other Way news, the singer recently contributed his talents to the children's television series The Aquabats! Super Show! Way co-directed the first episode of the show's second season, and even wrote some lyrics for music that was featured on the program. The singer notes that he's open to doing more TV/film projects as long as he doesn't have to do them alone.
"Any opportunity I get to do that and work with amazing people, I'll take it," he reveals. "At this stage in my life, if somebody gave me $10 million to make an indie, and it's just me, I don't think I would do that. I like working in groups."
Copyright 2013 ABC News Radio