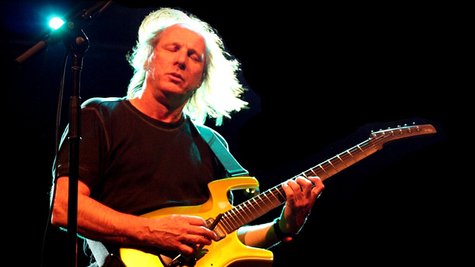 His official website's homepage features a quote from Trent Reznor calling him "the most awesome musician in the world," but apparently that awesomeness was ultimately a poor fit for Reznor's Nine Inch Nails . Adrian Belew has announced he's leaving the band.
In a post on his Facebook page , the veteran guitarist writes, "Concerning me being a part of the 2013 Nine Inch Nails band: it didn't work out."
Apparently, that brief bulletin is a shorter version of an earlier, longer statement Belew posted to Facebook, which Consequence of Sound grabbed before it was deleted. The earlier post reportedly read, "hey folks, before this goes too far let me say this: I greatly respect trent and the music he makes. no one is at fault. we both agreed it just was not working. I'm sorry to disappoint anyone. that really hurts. but NIN will do an amazing show and I am back where I belong: creating FLUX." FLUX is Belew's longtime musical project.
The irony is, it was Belew who's said to have inspired Reznor to reform NIN, after spending the past few years on other projects, including composing film soundtracks and releasing new music as How to Destroy Angels with wife Mariqueen Maandig , Atticus Ross and Rob Sheridan .
Belew's resignation comes just one day after Nine Inch Nails announced an upcoming North American tour in support of the forthcoming album, Hesitation Marks . It also comes less than a month after former Jane's Addiction bassist Eric Avery announced he was leaving NIN. Avery was replaced with longtime NIN collaborator Robin Finck .
Copyright 2013 ABC News Radio