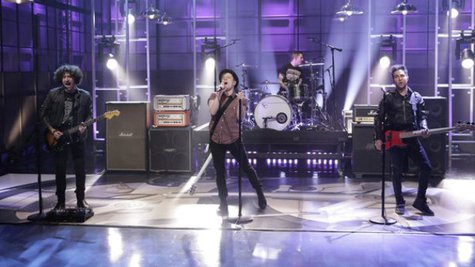 "My Songs Know What You Did in the Dark (Light Em Up)," the first single from Fall Out Boy 's comeback album Save Rock and Roll, has sold a million downloads and is also their biggest chart hit since 2007. Bassist Pete Wentz knows it isn't that easy to understand exactly what the song is about from reading the lyrics, so he tried to clear it up for us.
"I think the inspiration behind the content of the song is kinda like that's it OK to, once in a while, burn off everything about yourself and start over again," he tells ABC News Radio.
"In my 20s, I was like, "Oh, by the time you're 30, you'll have it all figured out." Like, 30 year olds have it all figured it out," Pete explains. "And then I was like, 'That's not really true. Everybody's trying to figure it out. And it's OK to light it up every once in a while and start again."
Starting again is just what Fall Out Boy did with Save Rock and Roll , which they released last April after an extended hiatus that left them refreshed and invigorated. The question now is, will the band continue to pump out albums, or will they take another long break?
"I'm definitely the wrong person in the band to ask about it. I think I'm so 'in the moment', you know?" Pete says. "So, I think that...right now, it feels really good."
Still, Wentz points out, "I think that without the time off and space, we wouldn't have been able to kinda make this album. So I don't know if that means we need to have that time and space every single time."
Fall Out Boy is currently touring in support of Save Rock and Roll. They'll wrap things up at the end of this month in Nashville, and then head overseas to Europe, the U.K. and Japan before returning for more U.S. dates in the fall.
Copyright 2013 ABC News Radio