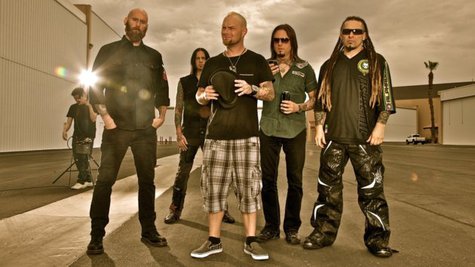 Five Finger Death Punch may have pushed back the release date for the first installment of their upcoming double album, The Wrong Side of Heaven and the Righteous Side of Hell , but the group is making it up to us by offering a preview of one of the new cuts. On Thursday, the group posted online a 34-second snippet of " Dot Your Eyes ," which will be featured on the upcoming release.
The Wrong Side of Heaven and the Righteous Side of Hell Volume 1 will arrive at all the usual outlets on July 30 and will be available in a variety of formats, including standard and deluxe digital versions and a limited-edition box set. All versions will include the standard album, while the deluxe edition will include a 15-track live CD, PURGATORY [Tales from the Pit] . The limited-edition box set includes everything from the deluxe edition, along with a 5FDP lunch box and a free download of an exclusive new track from the upcoming release.
You can pre-order the deluxe edition on iTunes starting June 18, but if you buy the physical version, you'll get a limited-edition t-shirt. The box set will also be available for pre-order on the group's website the same day.
Copyright 2013 ABC News Radio