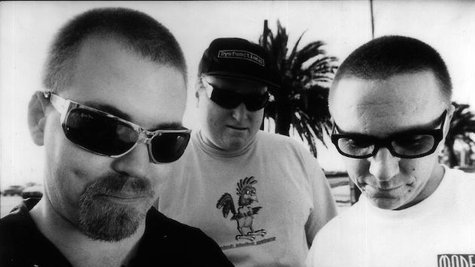 While Sublime 's live CD album, Three Ring Circus: Live at the Palace -- October 21, 1995 , won't be released until Tuesday, the band is giving us something to tide us over until then. RollingStone.com is currently streaming every song from the upcoming release on its website.
As the title suggests, the upcoming release documents a concert by the band's original lineup, which includes late frontman Bradley Nowell , at the Palace in Hollywood, California on October 21, 1995. The collection boasts 27 tracks including performances of hits "Date Rape," "Badfish," and "40 Oz to Freedom," as well as covers of Toots and the Maytals ' "54-46 Was My Number," Bad Brains ' "House of Suffering," and "Scarlet Begonias" by the Grateful Dead .
While Three Ring Circus: Live at the Palace -- October 21, 1995 will be available separately on CD and DVD formats, a deluxe edition of the release will also be available. In addition to the CD and DVD, that package includes an exclusive poster, laminated backstage pass and an additional live concert video of Sublime performing at the Las Palmas Theater in Hollywood, California from February 17, 1995.
Here is the track list for Three Ring Circus: Live at the Palace -- October 21, 1995 :
"Great Stone"
"We're Only Gonna Die for Our Arrogance"
"Don't Push"
"Garden Grove"
"Don't Push"
"Right Back"
"New Thrash"
"Saw Red"
"Badfish"
"All You Need"
"Hope"
"Foolish Fool"
"Falling Idols"
"Caress Me Down"
"40 Oz to Freedom"
"Ebin"
"54-46 Was My Number"
"Date Rape"
"D.J.s"
"I Love My Dog"
"Pool Shark"
"Work That We Do"
"Greatest Hits"
"Smoke Two Joints"
"Scarlet Begonias"
"Ring the Alarm"
"House of Suffering"
Copyright 2013 ABC News Radio