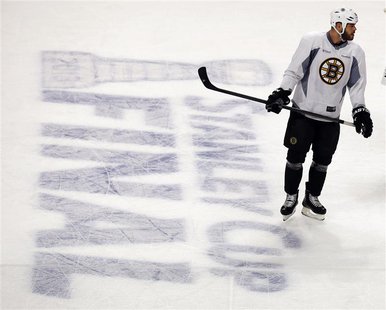 (Reuters) - Injured forward Nathan Horton was back on the ice with the rest of the Boston Bruins on Friday but remained listed as day-to-day as his team prepared for Game Two of the Stanley Cup Final against the Chicago Blackhawks.
Horton, who sustained what has been described as an upper-body injury during the Bruins 4-3 triple overtime loss to the Blackhawks in Game One, spent practice working with his normal partners David Krejci and Milan Lucic on the Bruins top line.
Bruins coach Claude Julien, however, was not ready to rule on Horton's fitness saying it would be a game time decision.
"He's day-to-day. That's what he was. That's why he practiced today," Julien told reporters. "We'll have to make a decision on him tomorrow.
"It was encouraging to see him out there today. If he feels good tomorrow, he's in the lineup, simple as that."
The playoffs' second leading scorer with seven goals and 18 points, Horton left the ice during the first overtime period on Wednesday with what appeared to be a shoulder injury.
NHL teams are notoriously tight-lipped about injuries and are required to describe them only as being either upper or lower body.
If Horton's injury is serious enough to keep him out of Saturday's contest, it would be a huge blow for the Bruins, forcing Julien to retool what has been his top line.
Krejci, Lucic and Horton have been the playoffs' hottest unit, combining for 21 goals and 57 points.
"If he can't play, I just can't use him once in a while, I might as well put somebody in that can play the minutes," said Julien. "If he's in, he's in where he belongs.
"I'll be very straightforward with you guys on that. If he's in, he's going to be in his position where he plays."
The Bruins' big line will be counted on in a big way as Boston tries to put the crushing disappointment of a triple overtime defeat behind them and focus on leveling the series before it shifts back to Beantown for Games Three and Four.
The trio was dominant in Game One with Lucic counting the first two goals staking Boston to a 2-0 lead.
If Horton is unable to go, Tyler Seguin, who was slotted into the top line after the injury and generated several good scoring chances in the overtime, is expected to get the call.
"He (Seguin) had some speed," said Blackhawks' Joel Quenneville. "They were a dangerous line.
"Seemed like they were pretty consistent throughout the night."
The Blackhawks and Bruins faced off against each other at the NHL awards table on Friday with Chicago captain Jonathan Toews narrowly beating out Boston's Patrice Bergeron for Frank Selke Trophy honors that goes to the forward who best excels in the defensive aspects of the game.
While Toews' defensive contributions are noteworthy, Quenneville and Blackhawks' fans would not mind seeing the team's leading scorer breakout of his playoff slump.
Toews, who tied with Patrick Kane as Chicago's top goal scorer with 23 during the regular season, has tallied just once in the post-season.
"Johnny brings a lot to the table besides the production," said Quenneville. "It's like we said all playoffs, I don't care who really scores, as long as we get some production across the board.
"You expect he's going to break out one of these days.
"One thing you know, he's the ultimate player as far as in all zones.
"Offensively his numbers may be down, but the one thing you get from Johnny, even without the puck, they got to be concerned with him."
(Reporting by Steve Keating in Toronto; editing by Julian Linden)