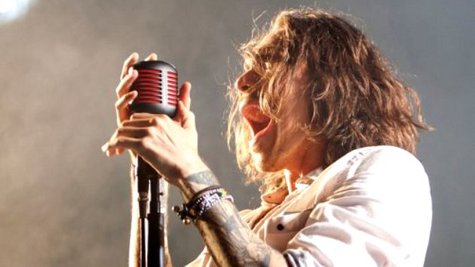 Incubus frontman Brandon Boyd has released a lyric video for "Lady Black," a cut from his solo project under his new moniker, Sons of the Sea .
In the three-minute clip, the song's lyrics flash across the screen accompanied by grainy black-and-white footage of faceless cartoon figures that hang out in hotels and chase after dogs. The video is currently streaming at Elle.com .
Boyd says he enjoyed the experience of exploring new creative avenues for the release with longtime Incubus producer Brendan O'Brien . "'Lady Black,' the first song we recorded together, was so different from anything else that either of us had done especially with each other [with Incubus]," he tells Elle . "So as we continued over six months, every song we worked on was different from the next one. It was process of continual discovery and that is essentially how Sons of the Sea came together."
"Lady Black" is available on Sons of the Sea's debut EP, Compass , which was released on Tuesday. Other tracks features on the release include "Space & Time," "Come Together" and "Where All the Songs Come From."
Copyright 2013 ABC News Radio