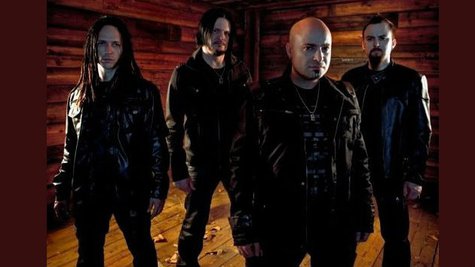 Don't worry Disturbed fans, just because frontman David Draiman and bassist John Moyer are out on tour with other projects, that doesn't mean that the band is breaking up. Draiman says that while he's enjoying his new side project Device , which includes Filter guitarist Geno Lenardo , he will always be a member of Disturbed.
"First of all, just to make it clear, I am still with Disturbed," he tells ABC News Radio. "Never left. Never gonna leave. It's my baby. This is gonna be healthy for Disturbed, it's gonna be healthy for Disturbed's fans, it's gonna be a good thing in general. Everyone just kinda needs to let it be, relax, and we'll back together eventually and in the meantime, we have Device."
The singer adds the main reason for Disturbed to go on an indefinite hiatus was so that each member of the band could explore other opportunities. "There was a definitive reason to go away and that reason is to clear your head," he explains. "You're doing the same for 16 years, it becomes cyclical and it becomes predictable and it's time for us to try and do some other things."
Meanwhile, Moyer -- who became a member of heavy metal supergroup Adrenaline Mob in February -- says that while he's not sure what's next for Disturbed, he has made his new band his top priority.
"I don't know what the future holds for Disturbed," he tells ABC News Radio. "Right now I have to focus on what's in front of me and my commitments are to Adrenaline Mob. If Disturbed called me tomorrow and said 'Hey, we need you next week to go out on tour,' I would have to say no because I've got a commitment right now to these guys."
Both Device and Adrenaline Mob have a number of tour dates and music festival appearances scheduled for the next few months. Visit DeviceBand.com and Adrenaline Mob.com to view their full itineraries.
Copyright 2013 ABC News Radio