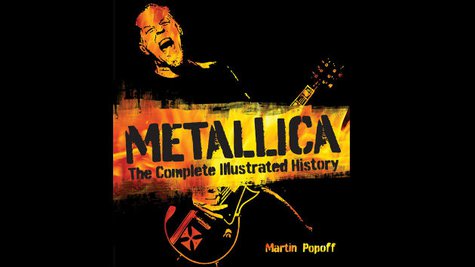 With a 3D film and the second edition of the Orion Music + More festival headed their way in the coming months, Metallica fans now have one more thing to look forward to.
Voyageur Press has announced that they'll be releasing a new book about the band, Metallica: The Complete Illustrated History , on October 15. Written by heavy metal journalist Martin Popoff , the book includes stories told by Metallica and will features an analysis of the band's complete discography. The book will also feature more than 300 live-performance and candid off-stage photos, as well as pictures of the band's concert posters, concert tees, picture sleeves, backstage passes, buttons, ticket stubs and more.
The second annual Orion Music + More festival, which will include headlining sets by Metallica and Red Hot Chili Peppers , takes place June 8-9 at Belle Isle Park in Detroit, Michigan. Metallica's 3D concert film, Metallica Through the Never , is expected to arrive in theaters on August 9.
Copyright 2013 ABC News Radio