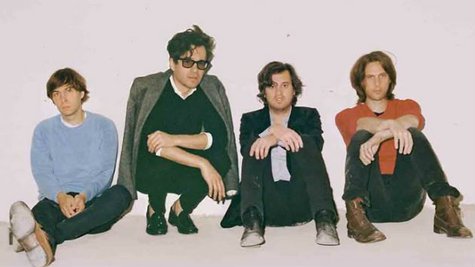 It appears that we have the producers of the Coachella festival to thank for Phoenix getting us a new record next month. Frontman Thomas Mars says that the offer to headline this year's edition of the fest helped push the band to finish recording Bankrupt! , due on April 23.
"That gave us a deadline for the record," Mars tells Rolling Stone . "Then we started to feel the pressure." Guitarist Laurent Brancowitz adds, "It's so easy not to finish things [so] we needed the fear."
Phoenix fans can expect Bankrupt! to feature a fair amount of musical experimentation. Mars reveals that the band incorporated a variety of unusual instruments into the new tracks, including a toy keyboard and an electronic drum machine.
"You record for so long that you have no sense of what you are doing," he explains. "I remember hitting, like, seven snares at the same time on a drum machine. We tried to make it so you don't know if it's a drummer or a drum machine…a keyboard or a guitar."
Phoenix kicks off their North American tour on Thursday at the Queen Elizabeth Theatre in Vancouver, Canada and will perform at the Coachella festival on April 13 and 20 in Indio, California. In addition, the guys will appear as the musical guest on NBC's Saturday Night Live on April 6, along with host and Identity Theft star Melissa McCarthy .
Copyright 2013 ABC News Radio