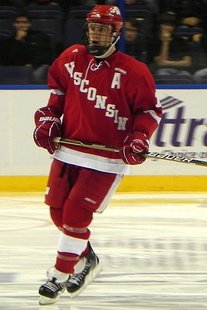 MANCHESTER, NH (WSAU) - The Wisconsin Badger Hockey season is over. They lost their opening game in the NCAA Hockey Tournament to top seeded University of Massachusetts -Lowell 6-1.
It was a tough day for Bucky as UMass Lowell was putting pressure on Badger goalie Joel Rumpel all day. UMass Lowell Freshman goaltender Connor Hellebuyck stopped 31 of 32 shots against the Badgers.
The Badgers pulled the goalie when they trailed 4-1, and UMass Lowell added a pair of empty net goals.
Wisconsin earned their opportunity to play the NCAA Tournament by winning the Broadmoor trophy in the WCHA Tournament last weekend, which they won for the first time since 1998. The UW entered the tournament 21-5-5 in its last 31 games, and came in with a six-game winning streak. The streak ended with Wisconsin's biggest margin of defeat all season. They finish the year with a 22-13-7 overall.
Both Western Collegiate Hockey Association teams lost Friday in NCAA tournament play, as top seeded Minnesota also fell to Yale 3-2 in overtime, and will face either Niagara or North Dakota in the West Regional.
Next year, the Wisconsin Badgers start a new era as they begin their 51st season of play in the Big Ten Hockey conference.