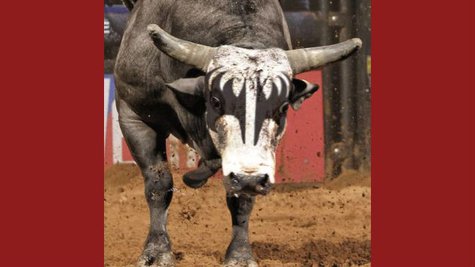 It may seem like an odd partnership, but KISS is saddling up with the Professional Bull Riders, or PRB, association for a unique new cross-promotional campaign . Starting this Friday at an event at the Mandalay Bay Events Center in Las Vegas, the PBR will introduce the KISS Kam -- a KISS-themed variation on the popular "kiss cams" -- featuring lovers kissing -- at many sporting events around the world.
Just like pro bull riders attempt to stay on their bucking beasts for eight seconds, lovebirds shown on the KISS Kam will be expected to smooch for the same amount of time -- or face the jeering of the audience. While the kissing couples are being displayed on the venue's video screens, the band's four members -- Gene Simmons , Paul Stanley , Eric Singer and Tommy Thayer -- will offer commentary via pre-taped video clips. The KISS Kam performances will be recorded and posted online at PBR.com/KISS, where online visitors can vote for their favorites while getting the chance to win special prizes.
Another facet of the KISS/PBR initiative will be the introduction of six bulls renamed after some of the band's albums. The animals -- KISS Monster, KISS Destroyer, KISS Animalize, KISS Revenge, KISS Love Gun and KISS Psycho Circus -- will be featured at all 26 of the PBR's Built Ford Tough Series contests scheduled this year, as well as future competitions.
"Some see this as an unlikely pairing," says Stanley in a statement. "But it's quite the opposite. PBR fans have a passion that we relate to and want to be a part of. They span cultures, stereotypes and countries. They are our kind of people."
"And that's no bull," adds Simmons.
All of the PBR's Built Ford Tough Series events will air nationally on TV, either on CBS or CBS Sports Network. CBS will broadcast the Las Vegas competition this Saturday and Sunday from 4 p.m. to 6 p.m. ET. Visit PBR.com to find out more information.
Copyright 2013 ABC News Radio