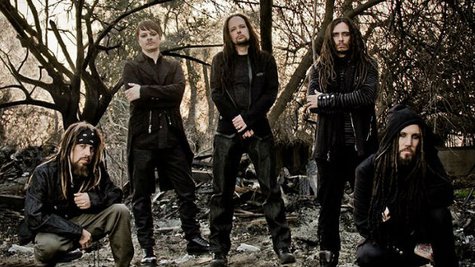 Since reuniting with Korn , guitarist Brian "Head" Welch has been spending his time in the studio with the guys working on their upcoming eleventh album. Welch says that the recording process is going well and that he likes what he's heard so far.
"This is the best Korn album ever," he tells ARTISTDirect . "[Frontman] Jonathan [ Davis ] is completely blowing my mind, and he's going to blow everybody else's mind when they hear it. His vocals are way out of the park, man."
Guitarist James "Munky" Shaffer notes that the time Welch spent apart from the band didn't affect their chemistry in the studio. "There wasn't really a learning curve," he explains. "When we picked up our instruments, it was super natural. Having us all go through our individual trials and tribulations, we can come to this point, make a great record, and look at it as a real achievement instead of just another album."
Shaffer adds that while the band currently has 25 songs ready for the album, only 15 will make it on the record. While a release date has yet to be announced, Shaffer had previous stated that the band hopes to release the album by the end of the summer.
Copyright 2013 ABC News Radio