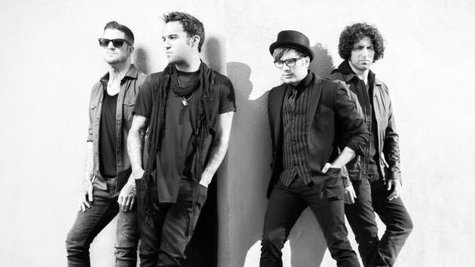 Last night, Fall Out Boy kicked off the next leg of their North American tour in support of their new album, Save Rock and Roll . Bass player and lyricist Pete Wentz says the group's five-year hiatus helped the guys find a new appreciation for their music.
"Time away has breathed new life into how we feel about the songs," he tells ABC News Radio. Because the band has only played a handful of shows so far since the reunion, things still feel fresh, he says. And the band is trying to keep it that way, he notes, saying, "I think that there'll be certain keys like giving each other enough space and enough time will be a key to…making it be different."
The guys are different now too, Wentz says. "We're adultish now, you know, like we're in a different place in all of our lives," he says. "It's given everyone, like, some much needed perspective."
Wentz says fans attending the upcoming shows can look forward to hearing what the band feels is an appropriate amount of new songs. "What we decided was, we were gonna work up, basically, every song [from the new album] so that we could play any of them, and then, as we saw how people reacted, add stuff to the set," he explains.
But, he says, long-time fans won't be disappointed. "We do understand the fans' perspective because, I mean, there's nothing like going out to see a band and they only play new stuff," Wentz says. "This is gonna be the most material we have for a set ever so that's kind of exciting."
If you miss the chance to see FOB out on tour this summer, you can tune in to catch the guys performing a set on NBC's Today show on July 19.
Copyright 2013 ABC News Radio