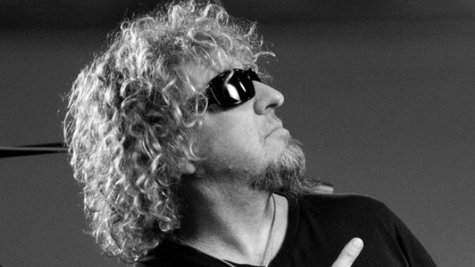 Sammy Hagar has revealed details about a new album he's been working on with Journey 's Neal Schon , as well as two of the Red Rocker's Chickenfoot band mates -- bassist Michael Anthony and drummer Chad Smith . In a new video posted on Hagar's official YouTube channel, Sammy reports that the project is basically a reincarnated version of his old supergroup HSAS , which featured Schon, journeyman bassist Kenny Aaronson and former Santana drummer Michael Shrieve .
The clip shows Hagar, Schon, Anthony and Smith jamming in the studio and also features them sitting on a couch together and discussing the collaboration.
Hagar points out that the group has just laid down three tracks, including a rendition of the unreleased Chickenfoot tune "Going Down," which he describes as the "#1 jam song" at his Cabo Wabo Cantina.
"We recorded it live as hell," adds Sammy. "Neal burned. It's never burned like that. It's like 'whew!'"
The original HSAS released only one album, Through the Fire , which came out in 1984. No word yet when the new record will hit stores.
Copyright 2013 ABC News Radio