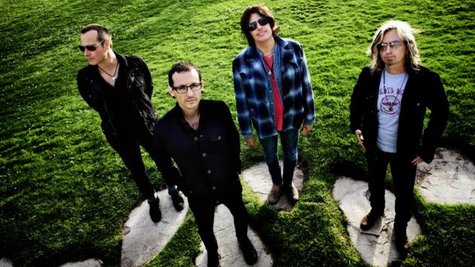 Stone Temple Pilots may be without a lead singer, but that hasn't stopped the group from making new music. They've partnered with Linkin Park frontman Chester Bennington to create a new single, "Out of Time," which they debuted at an event on Los Angeles over the weekend. You can score a free download of the studio version of "Out of Time" at StoneTemplePilots.com .
"Chester has a one-of-a-kind voice that we've admired for a long time," said guitarist Dean DeLeo in a statement. "We know Linkin Park will always be his priority, but we thought it would be cool to try something together. We managed to find the time to record a song and we're all really happy with the result."
Bennington adds that he was thrilled to get the chance to collaborate with Stone Temple Pilots on "Out of Time." "I've loved STP since I was 13 years old and they've had a huge influence on me," says Bennington. "When the opportunity came up to do something creative with them, I jumped at the chance. The guys in Linkin Park have been incredibly supportive of me undertaking this project while I've continued to work on new music with LP."
STP has yet to reveal if Bennington has recorded more music with them, or indeed if he'll take over for former frontman Scott Weiland , who was dismissed from the band in February.
Copyright 2013 ABC News Radio