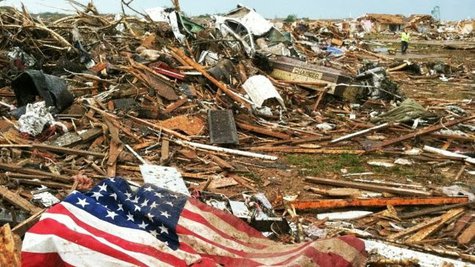 Blink-182 is stepping up to help those affected by the deadly tornadoes that ripped through Moore, Oklahoma on Monday, killing at least 24 people. The band has just announced that they'll be offering some exclusive products for a charity auction, the proceeds from which will go to support tornado victims.
"As we watch the news again this morning from Oklahoma our hearts as we are sure yours are as well are just broken for the people [affected] by this devastating tornado," writes the band in a joint statement on their Facebook page. "In the next few days we will be rolling out some charity auctions and merchandise to raise money (100% of the funds) for the people that have lost everything. Our thoughts and prayers are with you Oklahoma."

In addition, a number of rock artists have taken to Twitter to express their support and prayers for the tornado victims. Here's a roundup of some of their thoughts:
Slash : "Horrible what the people in Oklahoma just went thru. The devastation they're facing now. & the lives they've lost."
Nickelback : "Our thoughts and prayers go out to everyone affected by the Oklahoma tornados #PrayForOklahoma"
Imagine Dragons : "Our thoughts and prayers are with Oklahoma tonight."
Linkin Park 's Chester Bennington : "I am heartbroken for the people of Oklahoma!"
Former Guns N' Roses drummer Matt Sorum : "I love you Oklahoma. My heart is broken for you. Prayers for you."
Aerosmtih 's Joe Perry : "My sympathies for those who lost families and homes from the tornado that hit Oklahoma. #Climate #climatechange"
Kings of Leon 's Nathan Followill : "Sending good vibes 2 the people of Moore/OKC. Glad 2 hear the amazing stories of survival but very heavyhearted 4 those still missing."
Copyright 2013 ABC News Radio