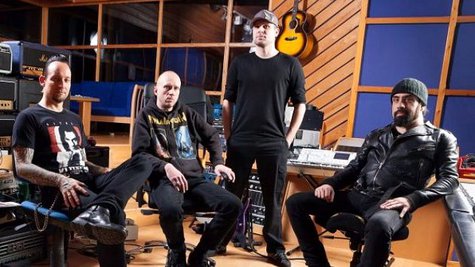 Volbeat 's latest album, Outlaw Gentlemen & Shady Ladies , has been getting some serious love on radio and on the active charts since its release last month. Frontman Michael Poulsen says that he's thrilled fans are enjoying the release, which was inspired by his love of the Old West.
"Lyrically…it was about time that something a little bit different happened, and I just started writing about these outlaws and gunslingers and shady ladies from the 1800s, because I could hear in the music I was writing that I was getting inspired by some of those old Western movies I'd been watching as a kid," he tells ABC News Radio. "Now is the right time to bring those characters to life and make that part of the whole Volbeat universe."
Poulsen adds that one of the biggest reasons for the band's successful new musical direction is the addition of former Anthrax guitarist Rob Caggiano , who officially joined Volbeat in February. "[Caggiano's] very tight, he's very solid and he definitely has his own touch when it comes to the solos, but style-wise, him and I fit perfectly," he explains. "It worked out really, really good, and I think you can definitely hear that on the record. It has a really good heavy dynamic, so I think he's an amazing guitar player."
Volbeat is currently on tour overseas, but the band will return to kick off the next leg of its North American tour with an appearance at the Shadow Hill Ranch Festival on August 24 in Twin Lakes, Wisconsin. Visit Volbeat.dk to view the full itinerary.
Copyright 2013 ABC News Radio