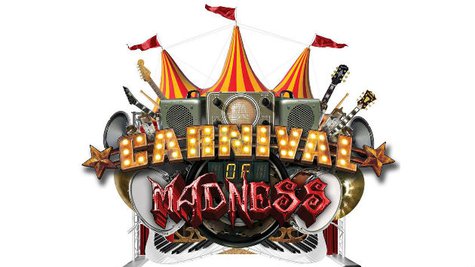 Shinedown has signed on to headline this year's installment of the Carnival of Madness Tour, which will kick off on the East Coast in August. This will be the second time that the group is at the top of the bill: they headlined the first-ever Carnival of Madness tour in 2010. Frontman Brent Smith says that fans who attend the upcoming event can expect much more than just a concert.
"It's gonna be a real carnival this year for the first time," Smith tells ABC News Radio. "We're actually gonna have circus performers and a whole different team of people that are gonna be involved in making this a massive spectacle. We want people to come in and see not just, you know, a rock show, but this is an experience, this is an event and…we wanna wow people."
Smith adds that thanks to his healthier lifestyle, he plans to spice up his wardrobe for the upcoming event. "I think that I need to come with seriously bad-ass outfits," he explains. "I though the outfits were really, really cool on the first year, you know, I had the top hat and the cane, but I was also 70 pounds heavier than I am now so I'm in way better shape, so...I'm looking forward to playing dress-up like a mofo."
Other bands set to rock the main stage at event include Papa Roach , Skillet , In This Moment and We as Human .
Dates for the Carnival of Madness Tour will be announced on June 3. Tickets for the event will be available starting June 7. Visit CarnivalofMadness.com for more information.
Copyright 2013 ABC News Radio