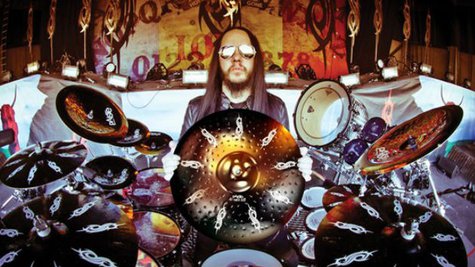 Last month, Slipknot 's Joey Jordison announced on his Facebook page that he's "working on a new music project," and posted a series of black-and-white photos of himself and a number of musicians recording in a studio. Now, the drummer says that the upcoming album was culled from a batch of songs he had originally written for Slipknot.
"I'd been working on new Slipknot material since the end of the All Hope Is Gone tour cycle but I ended up with so much stuff I had to take a step back and stop working on it," he tells the U.K.'s Metal Hammer . "I started focusing on a lot of the post-punk and industrial stuff that I've always loved and started putting super heavy and brutal guitars over the top of it. It's taken me a couple of years to get to this point, but I can honestly say this is the most satisfied I've ever been in the studio."
Jordison also revealed the lineup for his side project, which features a number of veterans of the heavy metal scene. "I've got [ Strapping Young Lad multi-instrumentalist] Jed [ Simon ] and [former Darkest Hour guitarist] Kris [ Norris ] to play lead guitar on everything," he says. "[Former Marilyn Manson keyboardist/drummer] Chris [ Vrenna ] is doing the keyboards and synths and all that stuff and I have an unknown guy on vocals."
A release date for the upcoming side project has yet to be announced.
While Slipknot is currently on a break from touring, the band is scheduled to perform at several European festivals this summer, including the U.K.'s Download Festival in June and Sweden's Metal Town Festival in July.
Copyright 2013 ABC News Radio