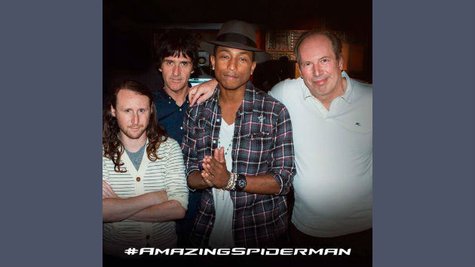 Incubus guitarist Michael Einziger and former Smiths guitarist Johnny Marr will be contributing their talents to The Amazing Spider-Man 2 . The rockers have been recruited by composer Hans Zimmer , who has put together a unique group of musicians to create the score for the upcoming flick.
"[ Spider-Man 2 director] Marc [ Webb ] and I were talking about Spider-Man , and as the word got out, so many of our friends and musicians started calling us up, wanting to be a part of it, because they love Spider-Man," says Zimmer in a statement. "With all of these hugely talented people wanting to join us, it was Marc who said, 'Why not start a band?' Marc and I have had a great start jamming with everybody, and we still have a few surprises up our sleeve."
While Marr is new to the movie business, Einziger has been racking up film credits over the last few years, including a recent collaboration with Zimmer to create the score for The Lone Ranger . Other musicians who've signed on to be a part of the group include rapper Pharrell Williams and Eurythmics guitarist Dave Stewart . Zimmer recently posted a picture of himself standing with Einziger, Marr and Williams on his Facebook page with the hashtag #AmazingSpiderman.
The Amazing Spider-Man 2 , which features stars Andrew Garfield and Emma Stone reprising their roles, is set to hit theaters in the U.S. on May 2.
Copyright 2013 ABC News Radio