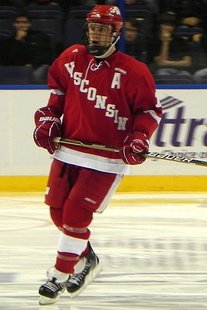 MADISON, WI (LEARFIELD-WSAU) The Wisconsin men's hockey team will keep one of its biggest rivals that it lost when it moved from the W-C-H-A to a new Big Ten circuit. This morning, the Badgers announced that they'll play a two-game series with North Dakota in four of the next six seasons.
Wisconsin coach Mike Eaves said it would keep a spirited rivalry alive, and it would test the Badgers by matching up with one of the nation's top programs. North Dakota coach Dave Hakstol said he's excited about continuing to face one of his traditional rivals on a long-term basis.
They'll pick up their rivalry next season in Madison, and the following year in Grand Forks North Dakota. After a year off, North Dakota will visit the Kohl Center in the 2017-18 campaign -- and then the Badgers will again be off to Grand Forks in the '18-19 season.
The Badgers and Fighting Sioux have played 163 games. Wisconsin leads the series 86-65-and-12.