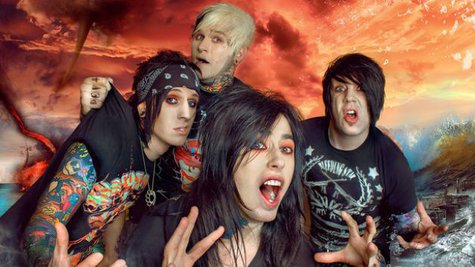 You wouldn't normally expect a band who booted their lead singer to go out on tour with their former frontman's new group, but that's exactly what's happening with Escape the Fate and Falling in Reverse .
Falling in Reverse frontman Ronnie Radke , who was fired from Escape the Fate in 2008 shortly after being sentenced to serve two years in jail for parole violation, says it was his idea for the bands to launch their the Bury the Hatchet Tour, which kicks off January 15 at the Wiltern Theater in Los Angeles, CA. "I just woke up one day and thought what better therapeutic way to forgive somebody and get over something than to tour with them," he tells Billboard . "So I made the call, and they agreed and jumped on board. It's a tour people never thought they'd ever see, so it's exciting."
Radke adds he'll soon be releasing a new solo project: a free rap mixtape that includes guest appearances by Escape the Fate's Craig Mabbitt , Papa Roach 's Jacoby Shaddix , and Black Veil Brides ' Andy Biersack .
"I feel like I've never done much in that scene, especially with rock people," Radke notes. "I figured I might as well take a new approach to our scene and do something that will be remembered, especially with that many people singing. It's pretty dope."
While a firm release date for the mixtape has yet to be announced, you can expect to get your hands on it sometime next month.
Copyright 2013 ABC News Radio