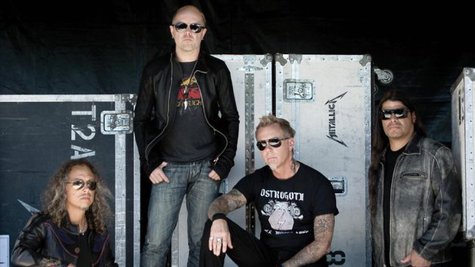 Metallica has acquired a massive number of fans over the past 30 years, but the band was recently surprised to learn that a country music legend loves their music. While chatting with Q magazine for its "Cash for Questions" segment -- which pays money to fans if they use their submitted questions -- drummer Lars Ulrich reveals that during one of their recent festival appearances he discovered Kris Kristofferson was a big Metallica fan.
"When we played Roskilde Festival a month ago, Kris Kristofferson stood in our little cockpit area behind the drums for the whole show," he tells the U.K. publication in its latest issue. "Every three songs I'd come off to get a drink and he's still be there getting more and more excited. He lasted longer than any of us did."
Ulrich also offered up the name of another unlikely celebrity fan he encountered over the years. " Donny Osmond came to a show in Long Beach Arena in 1986 when we were supporting Ozzy Osbourne ," he explains. "He was there to see Metallica, that blew our minds."
When the question got passed around to other members of Metallica, guitarist Kirk Hammett chimed in that he was shocked to learn than comic book legend Stan Lee enjoyed the band's music, while frontman James Hetfield noted he was surprised that the Prince of Bahrain was a fan of the band.
Copyright 2013 ABC News Radio