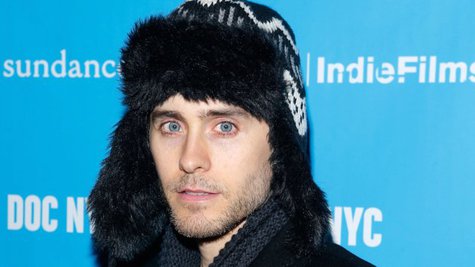 If you're wondering how Jared Leto dropped all that weight so he could portray a 1980s transsexual with AIDS in Dallas Buyers Club , the answer is simple: he didn't eat. The 30 Seconds to Mars frontman went on a strict diet before filming began, revealing he rarely ate anything at all while the film was in production.
"I only had three weeks to do it before filming started, so I just stopped eating," he tells People . "It was brutal. If I did eat, it was usually a raw vegetable. Sometimes I would splurge and eat half a cucumber with soy sauce on it."
Leto adds he also faced a host of other challenges for the role, noting the toughest part was dealing with his wardrobe. "I waxed my eyebrows and all of my body hair," he explains. "It was comfortable to wear a dress, and I was a natural at walking in heels. But the tights were the worst part. Now I understand the pain and the work that goes into being a woman."
Dallas Buyers Club is currently playing in select theaters across the U.S.
Copyright 2013 ABC News Radio