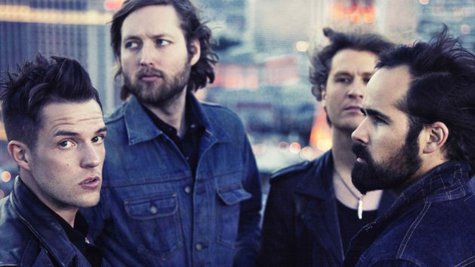 Frontman Brandon Flowers has revealed The Killers stole some music from legendary singer David Bowie for their hit single, "All These Things That I've Done," from the group's 2004 debut release, Hot Fuss . The singer says while the track was inspired by U2 's tenth studio album, 2000's All That You Can't Leave Behind , the group borrowed some instrumentation from a cut on the Thin White Duke's 2002 album, Heathen .
"There's an earnestness, spirit soul to U2, and I was trying to channel that," he tells NME . "We also took the bassline from a David Bowie song called 'Slow Burn' from Heathen , although enough time has probably passed now that I think he probably won't sue us!"
"All These Things I've Done" will be included on the band's upcoming greatest hits compilation, Direct Hits , which arrives at all the usual outlets on Tuesday. The set boasts 15 tracks and features a number of the band's biggest singles, including "Mr. Brightside," "Somebody Told Me," "When You Were Young" and "Human." In addition, the upcoming release includes brand-new tracks "Just Another Girl" and "Shot at the Night," which was recorded with M83 's Anthony Gonzales .
Copyright 2013 ABC News Radio