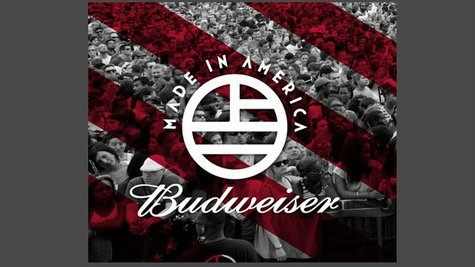 If you missed your chance to watch Ron Howard 's concert documentary about rap mogul Jay Z 's inaugural Made in America festival when it aired on Showtime last month, you're going to get another opportunity to see it, this time on the silver screen.
According to The Hollywood Reporter , Phase 4 Films has acquired the North American rights to Made in America, and the company plans to release the film in movie theaters for summer 2014. "We are thrilled to release this amazing film," said Berry Meyerowitz , president & CEO of Phase 4 Films. "Made in America is an uplifting and inspiring piece, not just for its musical performances but for the energy and resilience that it portrays."
The documentary, which initially premiered at the 2013 Toronto International Film Festival in September, follows Jay Z as he plans the inaugural edition of the massive two-day event, held in Philadelphia in 2012. It includes performances and interviews with a number of rockers including Pearl Jam , Dirty Projectors , Passion Pit , The Hives , and Gary Clark, Jr.
Copyright 2013 ABC News Radio