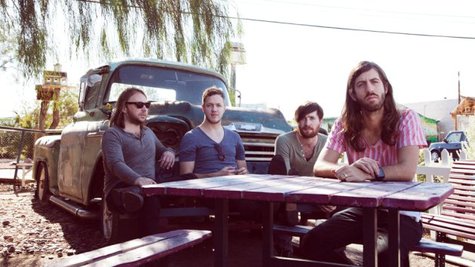 Riding high from the success of their debut album, Night Visions , Imagine Dragons is already working on ideas for their next record. Frontman Dan Reynolds says the band has been tinkering with new tracks which they hope to release, unless of course, something bad happens to them.
"We're always writing on the road, [so] that second album will come, unless we die at the age of 27 next year," he tells MTV . "Hopefully we don't die and there will be a second album. I don't know when it will be, but it may come." A number of notable rockers died at 27 including Nirvana frontman Kurt Cobain , Doors singer Jim Morrison and guitarist Jimi Hendrix .
Imagine Dragons will launch the final leg of their tour, dubbed the Into the Night Tour, on February 8 at the Taco Bell Arena in Boise, ID. Reynolds notes he's glad to be wrapping up the promotional outing for Night Visions at home in the U.S.
"It means a lot to us to close it out in the States; none of us could have expected this year, I think we've been blown away," he explains. "Our heads are spinning, we need to go collect our minds and take in what's going on. I don't think any of us understand what this past year has been." The singer says he also expects the band to "go straight into writing" new material once the tour ends.
Copyright 2013 ABC News Radio