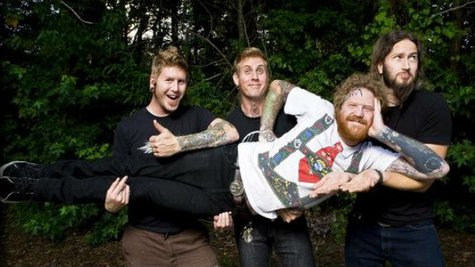 Mastodon has revealed they'll be hitting the studio in the next couple of weeks to begin recording their sixth studio album. Drummer Brann Dailor says the band's written "about 18 or 19 songs" for their next record, which will include some heavy guitar work.
"It's gonna be massive and insane, lots of epic greatness," Dailor tells Rolling Stone . "There will be lots of huge riffs and new directions. It's real weird, real math-y, real straightforward. It's up, down and all around. It's a culmination of everything for the band."
Dailor adds the group has chosen Nick Raskulinecz to produce the upcoming release, noting he got the job because of his past work on a number of rock albums the band enjoys. "He's done a bunch of our friends' records that sound great," Dailor explains. "I'm a fan of all the Deftones records he's done, all the Alice in Chains stuff, and he worked with Queens of the Stone Age on [their 2002 album] Songs for the Deaf ."
Mastodon's previous album, The Hunter , made a big splash on the charts when it was released, debuting at #10 on the Billboard 200 albums chart. It sold more than 39,000 units its first week, according to Nielsen Soundscan.
Copyright 2013 ABC News Radio