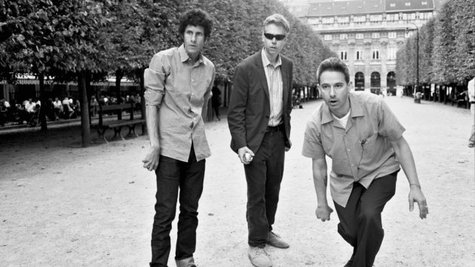 The war between Beastie Boys and GoldieBlox, a toy company that makes engineering toys for girls, is over. GoldieBlox, who got in some hot water with the Beasties legal team for using a parody of their classic single "Girls" in a commercial for their products, has announced they've decided to drop the song from the advertisement.
GoldieBlox posted an open letter to Beastie Boys members Adam "Ad-Rock" Horovitz and Michael "Mike D" Diamond on their website, noting they're "huge fans" of the band and that they had "the best of intentions" when they created the commercial.
"We wanted to take a song we weren't too proud of, and transform it into a powerful anthem for girls," reads the letter. "Our hearts sank last week when your lawyers called us with threats that we took very seriously. As a small company, we had no choice but to stand up for ourselves. We did so sincerely hoping we could come to a peaceful settlement with you."
The company adds the main reason they decided to remove the song from the ad was so they could honor the final wishes of late member Adam Yauch . "We want you to know that when we posted the video, we were completely unaware that the late, great Adam Yauch had requested in his will that the Beastie Boys songs never be used in advertising. Although we believe our parody video falls under fair use, we would like to respect his wishes and yours."
GoldieBlox adds they'll be dropping their lawsuit against the Beasties and hope they can be friends.
Copyright 2013 ABC News Radio