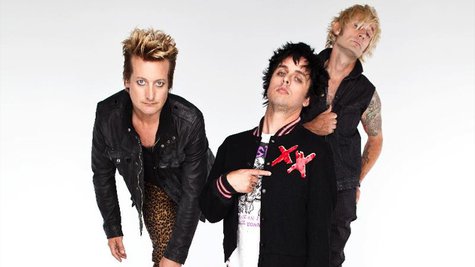 Green Day 's Broadway Idiot documentary won't hit the silver screen until next week, but you can watch a little preview of it now. The band has unveiled a clip from the flick, which chronicles the musical Broadway adaptation of their 2004 smash hit album, American Idiot .
The two-minute clip, which is available at RollingStone.com , features footage of the band collaborating with cast and crew of the American Idiot musical to record a new version of the single "21 Guns" for their production.
"When we started filming our documentary, we had amazing access inside the creative process of the Broadway team," Broadway Idiot director Doug Hamilton tells the magazine. "But it wasn't until a few months later, when [frontman] Billie Joe Armstrong opened up and invited us into the private recording studios of Green Day, that we really got to see inside the process by which Billie Joe, [bassist] Mike [ Dirnt ] and [drummer] Tré [ Cool ] create the Green Day sound."
Broadway Idiot will screen first in New York on October 11, and then arrive in other U.S. and Canadian theaters and video-on-demand on October 18.
Copyright 2013 ABC News Radio