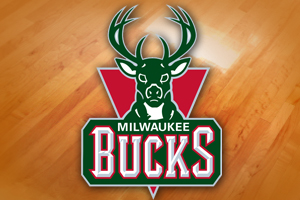 CLEVELAND, OHIIO (LEARFIELD-WSAU)The Milwaukee Bucks now have three of their biggest front-liners injured, after losing their exhibition opener at Cleveland last night 99-to-87. Starting power forward Ersan Ilyasova sprained his right ankle when he fell to the floor in a collision with the Cavaliers' C-J Miles in the second quarter.
Initial X-rays showed nothing broken. Ilyasova will have another exam today. Coach Larry Drew said the injury looked severe -- and the Bucks can ill afford that, with center Zaza Pachulia and backup forward Ekpe Udoh also out with injuries.
The Bucks struggled on offense, as they struggled to find a rhythm with 11 new players. Milwaukee trailed 80-to-59 after three quarters, and both the Bucks and Cavaliers went to their benches in the final period.
First-round rookie Giannis Antetokounmpo (yah-niss an-te-to-koom'-po) made the most of his team-high 29 minutes. The 18-year-old small forward from Greece had 14 points, four rebounds, and three blocked shots in his first N-B-A game.
Milwaukee shot only 38-percent and committed 24 turnovers. Tristan Thompson led Cleveland with 17 points and eight rebounds.
The Bucks will play their second exhibition contest Thursday night in Sioux Falls South Dakota against Minnesota.