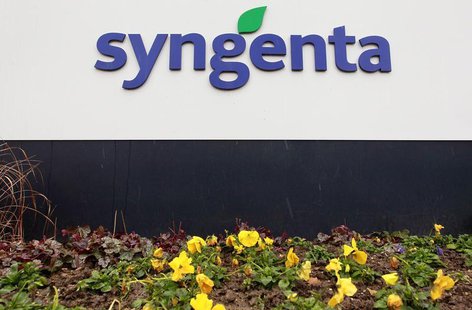 ZURICH (Reuters) - Syngenta, the world's largest agrochemicals company, said earnings for the year will come in lower than it expected due to a writedown on seed stocks and emerging market currency swings will reduce a benefit from exchange rates.
Earnings per share will no longer beat last year's underlying level, but instead come in close to that, which was $19.70 when excluding the effects of restructuring and impairment, Basel-based Syngenta said on Thursday.
"We've produced more corn seeds than we plan to sell in 2014 so we're being cautious and taking a provision," Chief Financial Officer John Ramsey told Reuters after the group reported third-quarter sales in line with expectations.
"But this is something that you'll see through the whole industry," he said. The group put its provision at $170 million.
Ramsey also said the group had expected currency rates to boost 2013 earnings by around $100 million, but now the company was forecasting $50 million. Syngenta makes most of its sales in U.S. dollars.
"The pressure came from the emerging markets, which make up 50 percent of our sales," Ramsey said. "We saw significant volatility which settled down through the latter part of September."
Shares in Syngenta - which have sharply underperformed rivals so far this year - were down 2 percent in opening trades compared to a 0.4 percent lower European chemicals sector. <.SX4P>
"On the guidance, uncertainty over the full year impact of exchange rates, progress in Latam, and the above inventory write-down will likely overhang the shares until early 2014," JP Morgan analysts wrote in a note.
Analysts at UBS said current consensus for underlying EPS was at $22.80, and taking $19.50 as the new guidance would translate to a 14 percent downgrade.
Syngenta said that the planting season in Latin America had started well, with sales up 17 percent there in the third quarter, driven by a 25 percent increase in Brazil.
In Latin America, which accounted for 26 percent of sales in 2012, the planting season falls in the second half of the year and is therefore important for the fourth quarter.
Syngenta trades at 16.1 times forward earnings at a premium to DuPont's
13.8 times but at a discount to Monsanto's 20.0 times.

Earlier this month, Monsanto reported a deeper than expected loss in its fourth quarter as sales in its key seeds and genomics business slipped.

For 2013, Syngenta maintained a target for sales to surpass last year's record of $14.2 billion and also a long-term goal to boost sales to $25 billion by 2020 as it banks on innovation and a more integrated business that supplies farmers with everything from seeds and pesticides to fertilizers and support services.

Syngenta also reiterated its target for a margin on earnings before interest, tax, depreciation and amortization (EBITDA) in the range of 22 to 24 percent in 2015. The company had reported an EBITDA margin of 23.2 percent at constant exchange rates in 2012.

Sales at Syngenta rose 11 percent at constant currency rates in the third-quarter to $2.9 billion compared with the average analyst forecast for $2.93 billion in a Reuters poll.

(Reporting by Victoria Bryan; Editing by David Cowell and Jane Merriman)