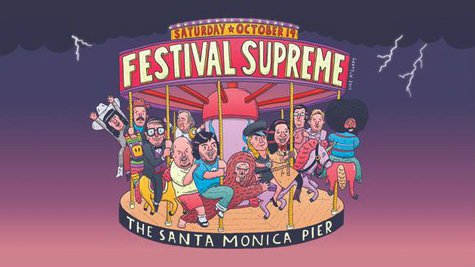 Tenacious D will stage their inaugural comedy-rock music festival, Festival Supreme, on Saturday at the Santa Monica Pier in Santa Monica, CA. Frontman Jack Black says fans who attend the event can expect a few surprises, including a "secret guest" that will join them during their headlining set.
"There's a secret weapon that when we unleash them, the excitement level will probably go through the roof," he tells L.A. Record . "Although there's no roof there, so the floorboards of the pier will shake loose."
Another attraction at the upcoming event will be the One Man Tent, which Black notes will allow concert-goers to get some one-on-one time with comedian Gregg Turkington 's stand-up comedy character, Neil Hamburger. "Only one audience member is allowed in at a time, and you have 30 seconds alone with Neil," he explains. "I can't guarantee he's even gonna tell jokes. You might just stare at him drinking and drinking, and he might just stare at you sweatily. But it's gonna be an experience to remember."
In addition to the D, the Festival Supreme's bill features a host of other well-known comedy-rockers including Zach Galifianakis , Adam Sandler , Sarah Silverman , Fred Armisen , and Eric Idle . Visit FestivalSupreme.com to view the full lineup.
Copyright 2013 ABC News Radio