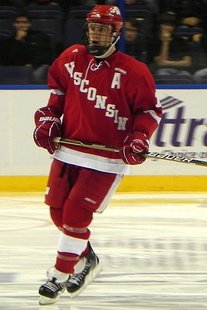 MADISON, WI (LEARFIELD-WSAU) The Wisconsin men's hockey team plunged out of the Top-10 Monday, after losing a pair of games in Boston over the weekend.
The Badgers dropped from second place to 11th in the U-S College Hockey Online poll, after losing at Boston College 9-to-2 and at Boston University 7-to-3. The Badgers lost both their games in the inaugural Big Ten-Hockey East Challenge.
Mike Eaves' team dropped to 2-and-2 on the young season. Boston College moved up two places to fifth in the new poll, and Boston University rose two spots to 13th. Minnesota is the new Number-One, after Miami-of-Ohio fell two places to third.
Meanwhile, the Badger women moved up two spots to second in their new poll, after sweeping Saint Cloud State over the weekend.
Wisconsin is 4-and-2 overall, and 2-and-2 in the W-C-H-A. Unbeaten Minnesota is at Number-One.