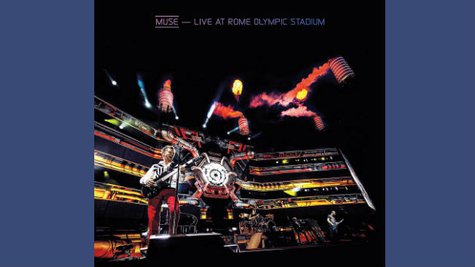 If you can't make it to the movie theater next week to see Muse 's upcoming concert film, Muse -- Live at Rome Olympic Stadium , don't worry: the band has announced they'll soon be releasing a live CD/DVD package which features performances from the flick.
Titled Live in Rome , the set documents the band's performance at the Olympic Stadium in Rome on July 6. The DVD boasts 20 tracks, while the CD version of the release features 13. Both releases include performances of the hits "Supermassive Black Hole," "Uprising" and "Starlight," as well as new cuts "Madness" and "Supremacy" from their latest album, The 2nd Law .
Live in Rome will be available on December 2. Advance screenings of Muse -- Live at Rome Olympic Stadium will be held in 20 cities on November 5, while the film will arrive in theaters worldwide on November 6. Visit Film.Muse.mu to find a screening at a theater near you.
Here is the track list for the DVD:
"Intro"
"Supremacy"
"Panic Station"
"Plug in Baby"
"Resistance"
"Animals"
"Knights of Cydonia"
"Explorers"
"Hysteria"
"Feeling Good"
"Follow Me"
"Madness"
"Time Is Running Out"
"Guiding Light"
"Undisclosed Desires"
"Supermassive Black Hole"
"Survival"
"The 2nd law: Isolated System"
"Uprising"
"Starlight"

Here is the track list for the CD:
"Supremacy"
"Panic Station"
"Resistance"
"Hysteria"
"Animals"
"Knights"
"Explorers"
"Follow Me"
"Madness"
"Guiding Light"
"Super Massive Black Hole"
"Uprising"
"Starlight"
Copyright 2013 ABC News Radio