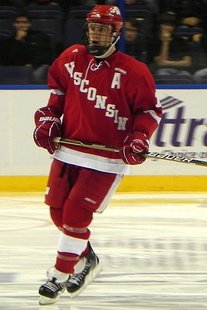 MADISON, WI (LEARFIELD-WSAU) The Wisconsin women's hockey team remains at Number-two in a poll released Monday by U-S College Hockey Online. The Badgers improved to 6-and-2 overall, after sweeping a pair from Lindenwood of Saint Charles Missouri this past weekend by a combined score of 9-to-2.
Minnesota received all 15 first-place votes, with a mark of 8-and-0.
Meanwhile, the Badger men dropped two more places to Number-13 in their College Online poll. Wisconsin had a bye this past weekend. They're 2-and-2 in the young season.
Minnesota is at Number-One in the men's as well as the women's polls. The Gopher men are 5-0-and-1.
In Division-Three, defending national champion U-W Eau Claire is Number-One in the men's pre-season College Online poll. Saint Norbert of De Pere is second, and Stevens Point is 13th. The Milwaukee School of Engineering also received votes, as did River Falls and Superior.