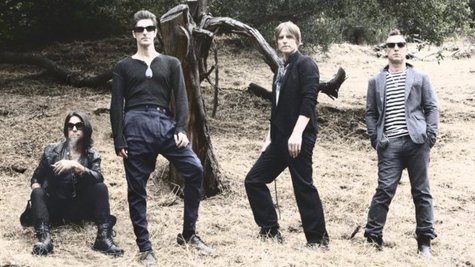 Jane's Addiction was honored Wednesday with the 2,509th star on the Hollywood Walk of Fame. Founding members Perry Farrell , Dave Navarro , Eric Avery and Stephen Perkins were on hand for the ceremony.
Frontman Perry Farrell spent most of his time on the microphone reminiscing about the band's early days, as it emerged from the Los Angeles club scene. He said, "The stories of Jane's Addiction, the songs of Jane's Addiction, were true Hollywood stories right off the streets. And that's why if you guys love us it's because you love Hollywood and you love the history of Hollywood and the people that make up Hollywood."
Wednesday's event featured Jane's Addiction tributes from The Doors drummer John Densmore , Foo Fighters drummer Taylor Hawkins , and X member John Doe .
Densmore credited Jane's Addiction for helping to define the alternative rock genre. And Hawkins quipped that the group "made me fall in love with rock and roll music at a time when it was looking really crappy and I was looking like I was going to become a jazz-fusion drummer."
Copyright 2013 ABC News Radio