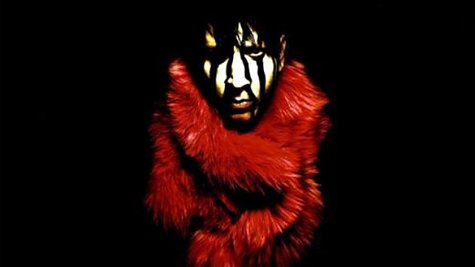 Marilyn Manson proves that he's not the greatest Halloween storyteller in a hilarious new "Funny or Die" video. Titled " Are These Tales Spooky to You? ," the 23-minute clip -- which is definitely not safe for viewing at work -- features the singer telling five scary stories so he can join the Inner Circle of the Scary Storytellers Crew, a group a kids who are obsessed with frightening tales.
Manson's first story is about a group of people who have to deal with the delicate issue of how to dispose of a horde of Jewish zombies, while his second tale profiles a family that makes friends with a pair of ghosts that are haunting their house. The singer then tells a story about a woman who is attempting to give makeup lessons despite her being possessed by an angry demon, and continues with a tale about a man who is forced to realize he's really a trumpet pretending to be human. Manson finishes things off with a yarn about three high-school boys in a locker room who are being haunted by a demon from hell.
In the end, the singer's stories don't seem to impress the kids, so they wind up killing Manson and bonding over a meal of hot dogs.
Copyright 2013 ABC News Radio
Funny Or Die's Halloween Anthology with Marilyn Manson from Marilyn Manson