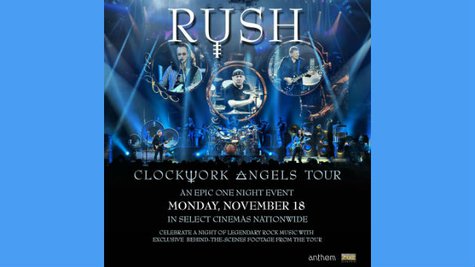 Rush fans will get the chance to check out the band's Clockwork Angels Tour DVD on the big screen the day before the video hits stores. A one-night-only screening of the concert video will be held in more than 350 theaters around the U.S. on Monday, November 18.
Rush: Clockwork Angels Tour captures the Canadian power trio performing at November 2012 shows in Dallas and Phoenix. The trek, which supported of the group's 2012 concept album Clockwork Angels , featured Rush accompanied by a string ensemble, marking the first time the band had brought extra musicians on the road with them.
The Clockwork Angels Tour movie runs 2 hours and 25 minutes, and features Rush playing enduring classics like "Tom Sawyer," "Subdivisions," "The Spirit of Radio" and "2112," as well as plenty of songs from its latest studio effort. In addition, the flick boasts 25 minutes of extra footage, including behind-the-scenes segments and interviews with the band members -- frontman Geddy Lee , guitarist Alex Lifeson and drummer Neil Peart .
The Rush: Clockwork Angels Tour screenings will take place at 7 p.m. local time. Tickets go on sale tonight at FathomEvents.com starting at 9:12 p.m. ET -- that's 21:12 military time; get it?
The Rush: Clockwork Angels Tour DVD and a separate companion two-CD set both will be released on November 19.
Copyright 2013 ABC News Radio