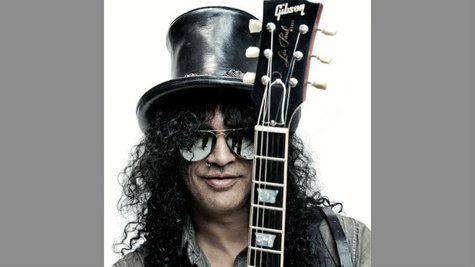 Besides being a scary good musician, Slash enjoys a good scare himself, which is why he launched the Slasher Films production company that specializes in producing fright flicks. Not surprisingly, the ex- Guns N' Roses guitarist also is a fan of Halloween, admitting that he and his family usually fully embrace the spooky holiday.
He tells ABC News Radio that his two kids, who are ages nine and 11, love to dress up for the holiday.
"Every October, we start looking at all the different Halloween outfits and costumes," Slash reveals. "And we traditionally overdecorate the house."
He also says that he usually throws a big Halloween bash, but admits that "there's been so much going on this year that I don't really feel like doing the whole party thing."
The Rock and Roll Hall of Famer says that the rest of his neighborhood also gets into the Halloween spirit.
"Everybody brings their kids over to our community and there's this huge Halloween [trick-or-treat excursion]," says Slash, adding that he accompanies his kids to the local houses and will wait at the curb as they go collect goodies.
As much as his children enjoy the holiday, Slash reveals that one Halloween-related attraction he recently brought them to proved to be a bit too scary.
"I just took my kids to Universal's Halloween [Horror] Nights …and we got to the front gates and they were like, 'Uh-uh. We're not going in there,'" he says with a laugh. "[I] was like, 'Are you kidding me? We came all the way down here. You invited your friends. We're all here.' And they're like, 'Uh-uh. We're not going in.'"
Slash explains that the attraction, which includes a Black Sabbath -themed maze, with its "chainsaws and all the metal music and the volume" proved "too ominous for them."

Incidentally, among the things that have been keeping the rocker busy in 2013 are the promotion of the recently released the debut Slasher Films offering, Nothing Left to Fear , and work on a new album.
Copyright 2013 ABC News Radio