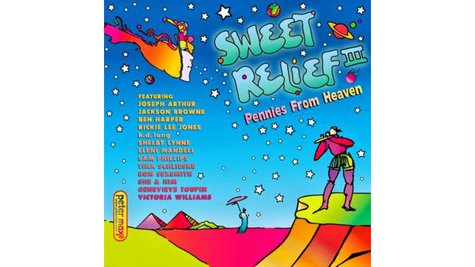 Pearl Jam bassist Jeff Ament and She & Him are among the many artists featured on the third installment of the Sweet Relief series of benefit albums. The Sweet Relief III: Pennies from Heaven compilation, which will be released this Tuesday, showcases various singer/songwriters performing cover tunes that offer themes of support and assistance.
Ament plays bass on Joseph Arthur 's version of "If I Needed You," by folk-country great Townes Van Zandt , while She & Him contributes a rendition of "King of the Road" by country singer Roger Miller . Other musicians featured on the album include Jackson Browne , k.d. lang , Ben Harper , Ron Sexsmith and Victoria Williams .
Williams, who suffers from multiple sclerosis, was the beneficiary of the first Sweet Relief compilation. Sales of the albums now raise funds for the Sweet Relief Musicians Fund , which donates money to artists in need of financial assistance because of illness or other issues.
Sweet Relief III: Pennies from Heaven boasts a cover created by famed pop art painter Peter Max . Here's the full track list:
"Pennies from Heaven" -- Ron Sexsmith
"Brother Where Are You" -- Shelby Lynne
"Big Spender" -- Sam Phillips
"How Did You Find Me Here" -- k.d. lang
"Crazy Love" -- Ben Harper
"Heart of Gold" -- Genevieve Toupin
"If I Needed You" -- Joseph Arthur
"Surfer Girl" -- Rickie Lee Jones
"With a Little Help from My Friends" -- Tina Schlieske
"Change Is Gonna Come" -- Victoria Williams
"King of the Road" -- She & Him
"I'll Be Home" -- Eleni Mandell
"Don't Let Us Get Sick" -- Jackson Browne
Copyright 2013 ABC News Radio