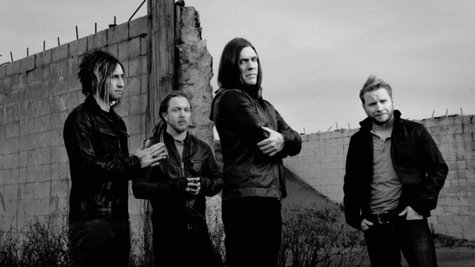 While Shinedown is currently rocking massive crowds on their Carnival of Madness Tour, the group is planning something more intimate for their next batch of dates. Guitarist Zach Myers says that Shinedown's next outing will be a storyteller-style event that combines live performances with a discussion about their songs.
"I think we are doing a tour called Anything and Everything…where you get to come and watch this band in their element just playing songs and telling you the stories behind them," he tells InsideSTL.com . "It is one of my favorite type of tours we have ever done so I am excited for it."
Myers adds that the band also has a tentative plan to begin working on their follow-up to 2012's Amaryllis . "There has been some talks about maybe starting to write a new record at some point next year so we are looking forward to that," he explains. "We are very excited about what the future will bring."
The Carnival of Madness Tour wraps up September 18 at the Northwest Concert Center in Puyallup, WA. In addition to sets by Shinedown, the event features performances by Papa Roach , Skillet , In This Moment and We as Human . Visit CarnivalOfMadness.com to view the full itinerary.
Copyright 2013 ABC News Radio