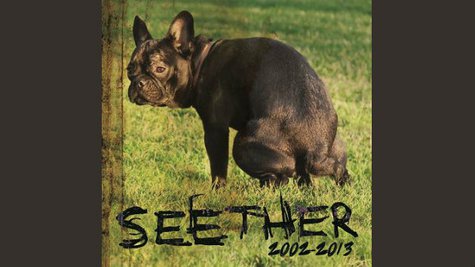 Seether is set to drop a collection of greatest hits and rare B-sides, Seether 2002-2013 , on October 29.
The set boasts 27 tracks spread out over two discs, and features a number of of the band's biggest hits, including "Remedy," "Fake It" and "Country Song." The upcoming release also includes three brand-new songs and a cover of Veruca Salt 's 1994 hit single, "Seether," which is where the group gets their name. That song will arrive at radio on September 10.
"13 years ago when a demo of 'Needles' came roaring through our speakers and tearing down our hallways, we knew greatness was at our fingertips," said president and CEO of Wind-up Records Ed Vetri in a statement. "After an amazing young career featuring 11 number-one songs, millions of albums sold, Seether is just hitting their stride and this Greatest Hits package only represents their work so far."
Here's the track list for Seether 2002-2013 :
Disc 1
"Fine Again"
"Driven Under"
"Gasoline"
"Broken" (featuring Amy Lee)
"Remedy"
"Truth"
"The Gift"
"Fake It"
"Rise Above This"
"Breakdown"
"Careless Whisper"
"Country Song"
"Tonight"
"No Resolution"
"Here and Now"

Disc 2
"Seether"
"Safe to Say I've Had Enough"
"Weak"
"Out of My Way"
"Hang On"
"Blister"
"Innocence"
"Let Me Go"
"No Shelter"
"Burn the Bridges" (Demo)
"Butterfly with Teeth" (Demo)
"Melodious" (Demo)
Copyright 2013 ABC News Radio